Home Inspector Shakopee | Home Inspection 952-456-4810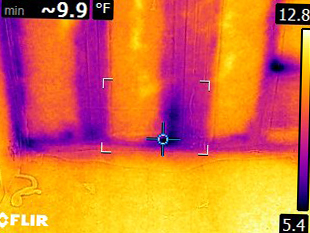 Infrared Thermal Imaging (or just thermal imaging) is an advanced, non-invasive technique that many home and building inspectors, including our team, use to deliver more detailed reports.
With thermal imaging, we can show clients things that wouldn't otherwise be revealed in a traditional inspection. This is because the technology allows us to see beyond what is visible.
What are the benefits to using thermal imaging in our home inspections?
Heat loss and air infiltration in walls, ceilings, floors, windows, and doors
AC compressor leaks
Broken seals in double-panned windows
Malfunctioning heating systems
Reveal hidden or hard-to-find roof leaks, plumbing leaks, missing or damaged insulation, and water intrusion penetration around the foundation
Find issues like overloaded, undersized, or in need of repair circuits, electrical faults, and overworked electrical components
Find pest infestations found by identifying energy loss. They can detect existence of rats, mice, or other large pests, and even potentially dangerous flue leaks that can lead to carbon monoxide poisoning.
Do you want an extra layer of assurance that your home or building's electrical system is safe, not overloaded, and properly maintained? Then a thermal imaging inspection may be right for you!
Home inspections are merely a visual inspection, and we can only report on what we can see. Hence why thermal imaging is a great addition to any inspection.
Home Inspector Shakopee | Home Inspection 952-456-4810?